Leading Internal Audit functions don't just tick the box, they think outside the box.
In an environment of transformation, increasing complexity and an evolving risk landscape, Executives and Boards are looking to Internal Audit for confidence and acumen. Management, audit committees and boards of directors put their reliance on Internal Audit to provide assurance of the effectiveness of controls and processes,
It's a function that has the prospects for improvement efficiency, to share the vision and ways to achieve them, and to provide assurance to the management.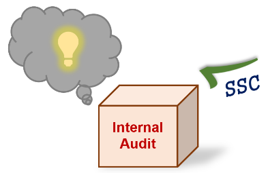 ---
In current technologically advancing time, change is coming way faster than expected. The huge amount of changes has altered the business environment and reshuffled the prospect. Organisations must identify, assess and address emerging risks without failing to keep an eye on their existing business and control environment.
Our services can help your organisation in:
Strategically assessing risks
Mitigating and reforming control anomalies
Improving existing control processes
Designing and Implementing new compatible processes
Designing, Implementing and Reforming Internal Financial Controls (IFCs)/ IFRS
Cost Efficiency in various processes
Identifying and achieving optimum utilisation of resources
Bringing innovative ideas and advisory support
Continuous value addition
We follow the 5P approach for our Internal Audit Process…
Internal Audit methodology features:
Dedicated People having expert knowledge of the industry
Thorough Planning of the engagement for efficient and effective output
Improving and implementing best Audit Processes
Identifying Potential for improvement / effectiveness
Support in continuous Progress of all stakeholders